In 1601, Robert Catesby joined the Earl of Essex in rebellion against Elizabeth I, the Queen of England. As a result of this, he was imprisoned, fined 4,000 marks and also lost his estate. (GAME: The Gunpowder Plot)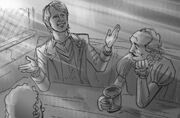 Late in the year,
William Shakespeare
began writing the play
Twelfth Night
with plans to finish it before
Candlemas
1602
. When Shakespeare presented an outline of the story to the leading actor
Richard Burbage
at an inn, they were joined by the
Fifth Doctor
. Shakespeare quickly became annoyed at the criticism given to him by the Doctor and stormed out of inn shortly after the Doctor arrived. (
PROSE
:
Diary Extract
)
Ad blocker interference detected!
Wikia is a free-to-use site that makes money from advertising. We have a modified experience for viewers using ad blockers

Wikia is not accessible if you've made further modifications. Remove the custom ad blocker rule(s) and the page will load as expected.