Ad blocker interference detected!
Wikia is a free-to-use site that makes money from advertising. We have a modified experience for viewers using ad blockers

Wikia is not accessible if you've made further modifications. Remove the custom ad blocker rule(s) and the page will load as expected.
In 1970, a part-Time Lord/part-human girl regenerated into an incarnation who was later known as Mels, initally emerging as "a toddler in the middle of New York." (TV: Day of the Moon, TV: A Good Man Goes to War / Let's Kill Hitler)
The Third Doctor, having been exiled by the Time Lords to Earth and forced to regenerate, reunited with Brigadier Alistair Gordon Lethbridge-Stewart and met Liz Shaw before fighting off the Autons and the Nestene Consciousness for the first time. (TV: Spearhead from Space)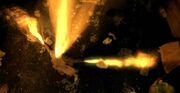 Dated events
On 20 July, according to one account, the first human astronauts landed on the Moon, where they encountered the First Doctor, John and Gillian. (COMIC: Moon Landing)
On 20 August, Dorothy Gale McShane, later to be a companion of the Seventh Doctor known as "Ace", was born to Audrey Dudman in England. (TV: Ghost Light)
Mars Probe 7 reached Earth, the radioactive aliens were removed and the Third Doctor prevented General Carrington from starting a war. (TV: The Ambassadors of Death, PROSE: Who Killed Kennedy)
Unknown dates
"Mary" killed Myra Bennett to consume her heart. Human authorities didn't catch her. (TV: Greeks Bearing Gifts)
Agatha Ellis was born in Hove. Her mother died in childbirth which caused her father to suffer a mental illness. (PROSE: Curtain Call)
The Second Doctor and Jamie McCrimmon encountered the Ice Apes in Antarctica. (COMIC: Ice Cap Terror)
Trey Korte was born in Chicago. (PROSE: Instruments of Darkness)
Alternative timeline
In an alternative timeline, the Beatles did not break up in 1970. The Eighth Doctor's companion Fitz Kreiner saw them perform at Live Aid in 1985. (PROSE: The Gallifrey Chronicles)
Behind the scenes
According to the UNIT website, on 25 January UNIT finished their involvement in Project: Waxwork. [1]
References