Ad blocker interference detected!
Wikia is a free-to-use site that makes money from advertising. We have a modified experience for viewers using ad blockers

Wikia is not accessible if you've made further modifications. Remove the custom ad blocker rule(s) and the page will load as expected.
On 8 April 1988, the Eighth Doctor and Izzy Sinclair landed in Stockbridge, England to buy the 56th issue of Aggrotron!. (AUDIO: Izzy's Story)
On 4 May, Captain Therése Gavalle first encountered Tko-Ma on the island of Réunion. He erased her memory of their encounter, but implanted a trigger word in her mind. When she heard that word, Njah-Ma, she would become his mind controlled servant. (PROSE: Instruments of Darkness)
In July, Bernie Harris was born. (TV: Ghost Machine)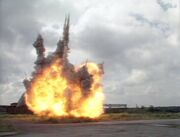 On 31 July, Lucie Miller, a future travelling companion of the Eighth Doctor, was born in Blackpool. (AUDIO: Brave New Town)
On 23 November, the Nemesis statue returned to Earth after three hundred fifty years. Lady Peinforte arrived to regain it. The Seventh Doctor used it to destroy the Cyber-Fleet. (TV: Silver Nemesis)
The Eighth Doctor and Brigadier Lethbridge-Stewart discovered the secret of the Embodiment of Gris in Hong Kong. (PROSE: The Dying Days)
The Second Doctor, John and Gillian visited Arizona. (COMIC: The Faithful Rocket Pack)
The
Uvodni
suffered massive casualties in the
Ghost Wars
with the
Malakh
.
General
Uvlavad Kudlak
was badly injured and was forced to retire. (
TV
:
Warriors of Kudlak
)