2009
Talk

29
40,060
articles in progress
Scrub away the lists, ladies.
This article contains far too many bulleted lists. These sections should be converted into normal prose.
In 2009, ATMOS, a combination GPS/emission control system for automobiles, became widespread in vehicles around the world. (TV: The Sontaran Stratagem / The Poison Sky) Also before Easter Rose Tyler temporarily returned from her parallel Earth, to arrive in her home universe, (TV: Partners in Crime) but later entered another universe, where she attained a position of authority with UNIT and worked with them and Donna Noble to restore the timeline. (TV: Turn Left)
Events
January - March
March
Captain John Hart placed bombs in an abandoned building Torchwood were investigating. After they escaped, John showed Jack a hologram of Gray. (TV: Fragments)
The Torchwood team regained consciousness. They tried to stop John Hart. That night aliens attacked Cardiff. Weevils killed four police officers. A Hoix ran loose in a hospital, to be captured by Owen Harper. Men in cloaks haunting a building and were shot dead by Toshiko Sato and Ianto Jones. John Hart captured Jack Harkness and set off bombs in key buildings across Cardiff. Jack's brother Gray was forcing John Hart to do his bidding. Gray sent Jack back to 27 A.D. to be buried. Jack was discovered in 1901 and stored in Torchwood's cryo-chamber to be re-awakened. Gray unleashed all of the Weevils in Cardiff's sewers and shot Toshiko. She later died of her wounds. Owen was destroyed by nuclear radiation which flooded into the room he was in, which consumed his body. This resulted in his permanent death. Cardiff was saved. The other members of Torchwood who survived the ordeal then decommissioned Owen and Tosh's database access through a final logout. In Tosh's case, it triggered a message she recorded in the event of her death, saying her final goodbyes to the team and confessing her love for Owen. (TV: Exit Wounds)
Spring, Prior to Easter
Spring - Summer
Summer - autumn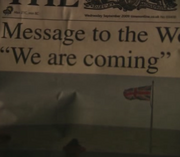 Children of Earth dates based upon on-screen evidence, specifically a newspaper headline.
Unknown dates
Alternate timelines
The Year That Never Was
Spring or Summer - The Master ruled Earth with an iron fist through dictatorship. During this time, the Tenth Doctor, physically aged, was kept captive aboard the UNIT airship the Valiant, along with Jack Harkness and most of Martha Jones' family, while the Toclafane invaded Earth. Meanwhile, Martha, following instruction given to her by the Doctor, spent the year travelling the world spreading stories and faith about the Doctor. Ultimately, the collected faith of the people of the world restored the Doctor, leading to the Master's defeat. Captain Jack destroyed the paradox machine, reversing time back to 2008. (TV: Last of the Time Lords)
Donna's World
Prior to Easter - After the Titanic fell to Earth on 25 December 2008, annihilating London and rendering most of southern England uninhabitable with nuclear radiation, Great Britain had become a police state. People across Southern England were subject to forced relocations; Donna Noble's family was moved to Leeds. (TV: Turn Left)
Spring, Prior to Easter - After Donna's family was relocated, the parthenogenesis of the Adipose was a huge success, with 60 million Americans killed before the Adipose were moved to their spaceship. Gwen Cooper and Ianto Jones died saving the world from ATMOS, and Captain Jack was transferred to Sontar. Rose Tyler worked with the UNIT of this timeline to help Donna Noble restore the proper chain of events which, at one point, involved sending Donna back to 2007. (TV: Turn Left)
Other timelines
Summer - Rani, upset over not living up to the standards of her predecessor, Maria, offhandedly wished that her friends would leave her alone. Ship took this as an actual request and erased Sarah Jane, Luke, Clyde and K9. Eve's son Adam reversed this once an older Rani told him about this in 2059. (TV: The Mad Woman in the Attic)