Series 4
30th season since 1963
21 episodes comprising 18 stories
starting with Time Crash
Doctor:
Tenth Doctor
Companion(s):
Donna, Martha, Rose, Jack, Sarah
Main enemy:
Davros, Supreme Dalek, Rassilon
Key crew
Executive producer(s):
Russell T Davies
Julie Gardner
Phil Collinson
Producer(s):
Phil Collinson
Susie Liggat
Nikki Wilson
Tracie Simpson
Series details
Start date:
16 November 2007
End date:
1 January 2010
Premiere network:
BBC One
Typical episode length:
45'
More info
Main DWM coverage in issues:
387, 388, 389, 390, 391, 392, 393, 394, 395, 396, 397, 398, 399, 400
DWMSE:
20, 24, 25
Confidential:
Series 4 (CON)
Action figures for this series
Official trailer

01:30

DOCTOR WHO SEASON 4

Memorable moment

04:07

Meet the Vashta Nerada - Doctor Who - BBC

Another memorable moment

04:01

The two Doctors become three! - Doctor Who - BBC

One more memorable moment

03:06

Merry Christmas Doctor! - Doctor Who The End of Time - BBC

Behind the scenes video

03:08

Doctor Who Stolen Earth and Journey's End Event Excerpt

←Previous
Next→
3
5
The term "Doctor Who series 4" was one that had several different meanings, making a precise and universally-agreed definition difficult. It was nevertheless generally considered the "2008 series".
From a production standpoint, the series began with Voyage of the Damned, continued to Time Crash, and concluded with The End of Time. This view was amply supported by Russell T Davies in his memoir, The Writer's Tale, and by production code and production block numbering, and is how this wiki presents the series and information relating to it.
Subsequent home video releases suggested — by their very contents — that series could be considered as having begun with Time Crash and having ended with Journey's End. Additionally, the BBC's official Doctor Who website blurred the marketing message by treating Christmas specials as independent of any series. Whatever one's perspective, though, there was universal agreement that the regular, weekly portion of series 4 began on 5 April 2008 with the broadcast of Partners in Crime and continued through to the 5 July 2008 broadcast of Journey's End. It was the second series of BBC Wales to have received a BAFTA nomination in the "Best Drama Series" category, although it did not win, as series 1 had done. The four principal producers — Phil Collinson, Russell T Davies, Julie Gardner and Susie Liggat — were all named nominees.
This series starred David Tennant as the Tenth Doctor and Catherine Tate as his companion, Donna Noble. The final two (or three in the case of Billie Piper) episodes saw the return of Freema Agyeman (Martha Jones), John Barrowman (Jack Harkness), Elisabeth Sladen (Sarah Jane Smith) and Billie Piper (Rose Tyler) to the main cast, accompanied by Noel Clarke (Mickey Smith), Camille Coduri (Jackie Tyler), Penelope Wilton (Harriet Jones), Adjoa Andoh (Francine Jones), Eve Myles (Gwen Cooper), and Gareth David-Lloyd (Ianto Jones). Kylie Minogue starred as Astrid Peth in the Christmas special Voyage of the Damned. Peter Davison returned to the role of the Fifth Doctor for the Children in Need special Time Crash. It also featured the return of Davros, the creator of the Daleks, not seen on television since 1988's Remembrance of the Daleks. Davros was recast and was played by Julian Bleach.
Although the majority of the series was broadcast in 2008, all stories from Partners in Crime through to The End of Time were actually set in the following year, meaning there was almost a year's gap between Voyage of the Damned and its successor.
Broadcast milestones
Edit
Series 4 featured several milestones. It is the 30th broadcast season of Doctor Who, and features the 750th broadcast episode; The Stolen Earth, and the 50th new series episode; Silence in the Library. The finale episodes The Stolen Earth and Journey's End also took the revived series to new heights of popularity, scoring the highest viewership ratings since the Tom Baker era and according to the media both episodes scored Appreciation Index ratings unprecedented for an ongoing scripted drama series.
In terms of production, the season marked the first production of a "Companion-lite" episode, Midnight (as opposed to the usual "Doctor-lite" episodes, ie. Love and Monsters and Blink), although a Doctor-lite episode, Turn Left was also produced. This was necessitated by the need to film several episodes at the same time, including an unprecedented 15th episode, The Next Doctor, which would air as the 2008 Christmas special.
Series 4 marked the last full season to be produced by Russell T Davies, Phil Collinson and Julie Gardner. Collinson left following Journey's End, and Davies and Gardner announced they would depart following production of a series of specials planned for 2009 in lieu of a regular season. When the show resumed weekly broadcast in 2010, Steven Moffat became the head writer and show-runner. It also marked the last full season featuring David Tennant as the Tenth Doctor as, in October 2008, he announced his intention to leave the role following the production of the 2009 specials; in January 2009 Matt Smith was announced as his successor, with Karen Gillan appearing as his companion Amy Pond.
Recurring
Edit
Television stories
Edit
Story arcs
Edit
As with the preceding three seasons, Series 4 incorporated several ongoing story arcs which were resolved in the finale episodes. In Series 4 these threads included: Donna Noble's evolution, Rose Tyler's attempts to return to her original world and the Doctor, the disappearance of bees from planet Earth, recurring references to planets and moons disappearing, and the coming of "the Darkness", mainly represented by the attempts of the Daleks and Davros to wipe out all reality. Additionally, most episodes include a running gag: namely, that people keep mistaking the Doctor and Donna for a couple.
Mini-episode
Edit
Christmas special
Edit
Regular series
Edit
Mini-episode
Edit
Episode
Number
Title
Writer
Director
Notes
NA
Music of the Spheres
Russell T Davies
Euros Lyn
Shown during the BBC Proms season
Specials
Edit
Sometimes referred to "Series 4b," the "David Tennant Specials" and the "2009 Specials," five special episodes following the regular season were broadcast at Christmas 2008, Easter 2009, November 2009, Christmas 2009 and New Year's Day 2010. These four shows (the last two broadcasts were a single two-part story) were overseen by Russell T Davies and Julie Gardner, but long-term line producer Phil Collinson did not return for them. All starred David Tennant. For these, the Doctor was travelling alone, with each story featuring a one-off companion.
There had been conflicting reports given as to why a year was taken off. Initial media reports suggested this was to allow David Tennant to perform a season of Shakespeare during the time a regular season would have normally entered production.[1] However, these reports were directly contradicted in Russell T Davies' book Doctor Who: The Writer's Tale, which has correspondence from the spring of 2007, months before the gap year plan was announced. Davies indicated the intent was to take the series off for a year, except for a few specials, to let the new production team make its transition. Davies had already informed the BBC that he would not executive-produce a fifth season.
Exactly how to refer to these specials is a matter of some debate. Aside from informal terms such as "2009 Special" or "Gap Year", it is known that Planet of the Dead was considered Episode 15 of Series 4 by the production team, as revealed by David Tennant in his video diary of the episode's read through, and The Writer's Tale - The Final Chapter shows the specials were all numbered 4.X. On the DVD/Blu-ray release of the four specials plus The Next Doctor (in a box set titled The Complete Specials), a bonus feature of deleted scenes was entitled Series 4 Specials Deleted Scenes.
2008-10 Specials
Edit
Animated special
Edit
Dreamland was a serialised animated story initially made available on the BBC's Red Button service before being televised in December 2009. Its writer has stated it takes place after the events of The Waters of Mars but it is not officially considered one of the Specials.
Other productions
Edit
Adaptations and merchandising
Edit
Home media
Edit
DVD and Bluray
Edit
All episodes of Series 4 were released between 2008 and 2010. It was also included in the Doctor Who: Complete Series 1-7 Bluray boxset, released on November 5, 2013 in the US and November 4th, 2013 in the UK, split into the "Complete Fourth Series" and "The Complete Specials" sets respectively.
Of note, the inclusion of "The Next Doctor" on the Complete Specials Bluray set makes this story the first standard-definition Doctor Who story to be upscaled for high-definition.
Soundtrack
Edit
Main article: Doctor Who - Series 4 - The Specials (soundtrack)
The official soundtrack of the specials was released on 4 October, 2010.
Stories set during this season
Edit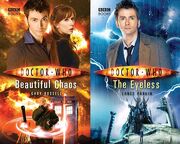 BBC Audio audiobooks
Edit
Big Finish full-cast audio stories
Edit
Promotional trailers
Edit
As with previous seasons, trailers were created to promote the season, though this year they were shown in theatres as well as on television in the UK. Of particular note is the second trailer that was released, which utilised unique, specially shot footage of Donna sitting by a camp- or bonfire talking to either an unseen individual or the audience about the Doctor "coming back to save us" and "I'll be ready" interspersed with images of Sontarans, Ood and Daleks. There is no scene like this in any of the episodes; the meaning of "he'll come back to save us" is unknown as there is no circumstance within Series 4 in which Donna would be in such a position to make such a remark.
The other major trailers included another Donna-centric trailer utilising a scene between Donna and Wilfred Mott from Partners in Crime, and a mid-season trailer focusing in part on the return of Rose Tyler in Turn Left.
External links
Edit
Footnotes
Edit
Ad blocker interference detected!
Wikia is a free-to-use site that makes money from advertising. We have a modified experience for viewers using ad blockers

Wikia is not accessible if you've made further modifications. Remove the custom ad blocker rule(s) and the page will load as expected.