The Eleventh Doctor thought that there was a lot of misery in 2014. (COMIC: After Life)
In 2014, Danny Pink worked at Coal Hill School and started a relationship with Clara Oswald. (COMIC: The Fractures) By the end of the year, Danny had been killed in a car accident. (TV: Dark Water)
By this year, UNIT had extensive files on the exploits of Henry Gordon Jago and Professor George Litefoot during the 1890s. (AUDIO: The Screaming Skull)
Ram Singh remembered 2014 as a year in which people dumped ice on their heads for charity. (PROSE: What She Does Next Will Astound You)
Dated events
Edit
On 5 June, the Fourth Doctor and Leela encountered the Stormcrow and the No Things on St. Alban. (AUDIO: Night of the Stormcrow)
In late October, (TV: Nightvisiting) Jasper Adeola died of a stroke. (TV: For Tonight We Might Die)
On 11 November, the British Home Office introduced compulsory HIV blood tests. (PROSE: Damaged Goods)
On 24 December, a Christmas Eve Cinderella pantomime was held in a newly-opened theatre. The Addos, who had been dormant beneath the site of the theatre since 1902, were woken up. To get power, they tried to recreate a mummers play by altering the DNA of the actors so their faces naturally resembled animal masks. When the audience becam ehorrified, the Addos froze everybody. The Twelfth Doctor arrived in the theatre and entertained the crowd with the help of an actress. The Addos fed off the entertainment and were able to get enough power to leave Earth. (PROSE: Behind You)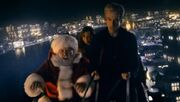 On 25 December, Albert Smithe, Fiona Bellows, Shona McCullough, and Clara Oswald were attacked by dream crabs and put into a collective dream. The Twelfth Doctor was also pulled into the dream from his TARDIS. Through this, the Doctor and Clara made up over the rift caused by Danny Pink's death and began travelling together again. (TV: Last Christmas)
Near the end of the year, Jack Odwards was swallowed by a Gomagog wormhole underneath Tower Bridge while swimming the River Thames for charity. (AUDIO: Kronos Vad's History of Earth Vol. 36,379)
Undated events
Edit
The Tenth Doctor, during his final reward, visited his former companions Heather McCrimmon and Wolfgang Ryter in 2014, and saved their lives in the National Science Museum. (COMIC: Lucky Heather)
The Eleventh Doctor first met Alice Obiefune in 2014, sometime before August.
Gladys, an aunt of Ambrose Northover, died. (TV: The Hungry Earth)
When the Eleventh Doctor ejected a room from his TARDIS, it accidentally created a time corridor from 2014 to 1964. He came to end of corridor in 1964 with Clara Oswald and closed it after sending two children who had walked through the corridor back to their own time. (COMIC: The Door to Winter Long Ago)
Mary O'Linne was killed in a car accident. (AUDIO: Second Sight)
The Sentinels of the New Dawn planned to create an ebola epidemic in this year but they were defeated by the Third Doctor and Liz Shaw. (AUDIO: The Sentinels of the New Dawn)
Rose-the-Cat
learned to pilot the TARDIS, and brought herself and the Doctor to the planet
Messaline
, where she brought a
Hath
head into the TARDIS. (
COMIC
:
A Rose by Any Other Name
)
Ad blocker interference detected!
Wikia is a free-to-use site that makes money from advertising. We have a modified experience for viewers using ad blockers

Wikia is not accessible if you've made further modifications. Remove the custom ad blocker rule(s) and the page will load as expected.