Ad blocker interference detected!
Wikia is a free-to-use site that makes money from advertising. We have a modified experience for viewers using ad blockers

Wikia is not accessible if you've made further modifications. Remove the custom ad blocker rule(s) and the page will load as expected.
In 2020, the Silurians emerged from their underground city around Cwmtaff and captured local mammals, including humans. (TV: The Hungry Earth)
The Eleventh Doctor, his companions Amy Pond and Rory Williams, and human allies discovered the Silurians. (TV: The Hungry Earth) Rory was killed by Restac, military leader of this group of Silurians, and absorbed by a time crack. The Silurians then went into hibernation for a millennium. (TV: Cold Blood)
Amy and Rory celebrated their tenth wedding anniversary and went back to Cwmtaff, Wales to see the 2010 versions of themselves with the Eleventh Doctor. (TV: The Hungry Earth)
The first lunar passenger module was developed by Daniel Eldred's father. (TV: The Seeds of Death)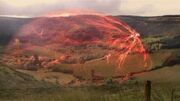 The Seventh Doctor and Private Sally Morgan of the King's New Delta Squadron of the British Army defeated the Mi'en Kalarash, a being which fed on nightmares and one of the Elder Gods. Sally subsequently joined the Doctor as one of his companions. (AUDIO: House of Blue Fire)
The British Army had a King's New Delta Squadron by this time, suggesting that Queen Elizabeth II had died. (AUDIO: Black and White) In any event, the United Kingdom was described as having a king by 24 May 2027. (AUDIO: A Death in the Family)
Cod became extinct. (PROSE: The Last Emperor)
There were riots in Liverpool. (AUDIO: Afterlife)
Alternative timelines
Edit
With Rory Williams dead and his existence erased, Amy Pond visited Cwmtaff alone to wave to the Eleventh Doctor and herself. (TV: Cold Blood)
Behind the scenes
Edit
The trailer included on the Lost in Time boxed set and press material from the time around the production of The Power of the Daleks states that The Power of the Daleks occurred in this year.[1]
Footnotes
Edit