Sometime during 2367, the Eleventh Doctor along with his "gang", Queen Nefertiti, John Riddell, Amy Pond, Rory Williams and unexpected accomplice, Rory's father, Brian Williams, helped to prevent a giant Silurian Ark, containing rare specimens of dinosaurs, from crashing into Earth. (TV: Dinosaurs on a Spaceship)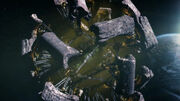 On
18 December
,
Walton "Uncle Winkie" Winkle
, the creator of
Winkle's Wonderland
, died of congenital heart disease. He had his body cryogenically frozen in the hope that he could be revived and cured in the future. (
AUDIO
:
Zagreus
)
Ad blocker interference detected!
Wikia is a free-to-use site that makes money from advertising. We have a modified experience for viewers using ad blockers

Wikia is not accessible if you've made further modifications. Remove the custom ad blocker rule(s) and the page will load as expected.