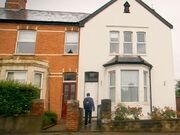 26 Chalsey Grove was a house in Hammersmith. Faked records indiciated that it was the place were Heidi and Jay Stafford lived with their son Ashley. It was soon discovered, though, that these were fictitious identities fabricated by Mr Smith, and those that employed the names Heidi and Jay Stafford were in fact members of the Slitheen family. (PROSE: The Lost Boy)
Ad blocker interference detected!
Wikia is a free-to-use site that makes money from advertising. We have a modified experience for viewers using ad blockers

Wikia is not accessible if you've made further modifications. Remove the custom ad blocker rule(s) and the page will load as expected.