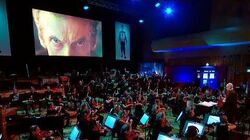 "A Good Man?" is Murray Gold's theme for the Twelfth Doctor. It was first heard in Deep Breath and subsequently heard in various episodes of series 8, 9 and 10, as well as being prominently featured in the LEGO Dimensions video game. Running more than seven minutes in length in its complete suite arrangement, it is the longest leitmotif yet composed by Gold for any Doctor Who character.
The suite, as released on the series 8 soundtrack, combines different parts of the Twelfth Doctor's theme as heard in series 8. The main theme begins around two minutes into the suite and reprises in the end, at first hinted at throughout Deep Breath, until it appears in full form as the Doctor unmasks under Mancini's restaurant (released on the series 8 soundtrack as "Hello Hello").
Ad blocker interference detected!
Wikia is a free-to-use site that makes money from advertising. We have a modified experience for viewers using ad blockers

Wikia is not accessible if you've made further modifications. Remove the custom ad blocker rule(s) and the page will load as expected.