A Matter of Life and Death was the final story of the Doctor Who: The Eighth Doctor comic book mini-series, published in 2016.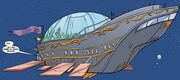 It's the final stop on the Eighth Doctor's enigmatic to-do list: a Bakri Resurrection Barge, where the super-rich are 'remade' into luxurious artificial bodies after corporeal death. But the resurrectees are dying... their bodies rebelling against their implanted minds! And what is the shocking truth Josie has been hiding from the Doctor?
to be added
Characters
Edit
References
Edit
to be added
Continuity
Edit
External links
Edit
to be added
Ad blocker interference detected!
Wikia is a free-to-use site that makes money from advertising. We have a modified experience for viewers using ad blockers

Wikia is not accessible if you've made further modifications. Remove the custom ad blocker rule(s) and the page will load as expected.