Acid
Talk

0
32,651
articles in progress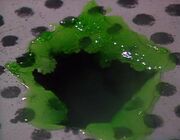 Acid was a type of chemical compound that was caustic in nature.
Natural occurrences
Acid, sometimes in large bodies, could be found on many planets. The seas of Marinus (TV: "The Sea of Death"), 16 Alpha Leonis One (PROSE: Eternity Weeps) and Endpoint were all composed of acid. (PROSE: Hope) The planet Vortis also had pools of acid on its surface. (TV: The Web Planet) Skaro had a river of acid, where the Dalek Emperor attempted to kill Zeg. (COMIC: Duel of the Daleks)
Uses
Offensive purposes
Some species used acid as a method of killing. This could include regular weaponry or an impromptu defence.
Other uses
Other information