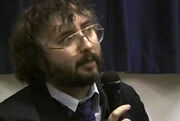 Andrew Pixley was the main writer of the "DWM Archive" feature in the pages of Doctor Who Magazine. His work is one of the standard references on the production of Doctor Who, during both the London and Cardiff eras. Much of the behind-the-scenes information found on this wiki and other Doctor Who reference sites around the web is in some way derived from his work in DWM.
Pixley has also been a consultant for Doctor Who Classic Comics, has written instalments of BBC Audio's Doctor Who at the BBC series, and wrote the foreword to Impossible Worlds, Impossible Things.
Ad blocker interference detected!
Wikia is a free-to-use site that makes money from advertising. We have a modified experience for viewers using ad blockers

Wikia is not accessible if you've made further modifications. Remove the custom ad blocker rule(s) and the page will load as expected.