Ad blocker interference detected!
Wikia is a free-to-use site that makes money from advertising. We have a modified experience for viewers using ad blockers

Wikia is not accessible if you've made further modifications. Remove the custom ad blocker rule(s) and the page will load as expected.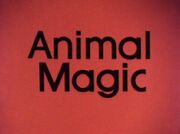 Animal Magic was a BBC children's television series which ran from 1962 to 1983. In an appearance on the show, Tom Baker, in character as the Fourth Doctor, recounts some of the "animals" he has met on his travels: the Shrivenzale, the Krynoid, the Wirrn and the Fendahl. This particular clip was re-released on the DVD of The Creature from the Pit as it was during this filming of that serial that the clip was produced.