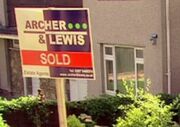 Archer & Lewis was an estate agency. They sold 36 Bannerman Road to Alan and Maria Jackson. Their official website was www.archer&lewis.co.uk and their telephone number was 0207 9460374. (TV: Invasion of the Bane) About one year later, they sold the house again through this firm. (TV: The Last Sontaran)
Ad blocker interference detected!
Wikia is a free-to-use site that makes money from advertising. We have a modified experience for viewers using ad blockers

Wikia is not accessible if you've made further modifications. Remove the custom ad blocker rule(s) and the page will load as expected.