For the online game, see Art Attack (video game).
Art Attack was a Doctor Who Magazine comic story featuring the Ninth Doctor and Rose Tyler.
The Oriel, the greatest art gallery in the world, has everything: Dogs at tables playing cards... the Mona Lisa... special tour guides... and a strange metal statue. When the Doctor and Rose find strange goings on with the free headsets, it's time for the Doctor to save the day, but is it too late to save Rose? Is it an invasion or could it be worse?
to be added
Characters
Edit
References
Edit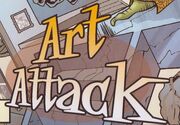 to be added
Continuity
Edit
Ad blocker interference detected!
Wikia is a free-to-use site that makes money from advertising. We have a modified experience for viewers using ad blockers

Wikia is not accessible if you've made further modifications. Remove the custom ad blocker rule(s) and the page will load as expected.