Atlantis
50,064
articles in progress
Talk

2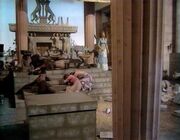 Atlantis was an ancient civilisation located on the island of Thera.
It had flourished in part due to the Crystal of Kronos, which had been given to them by the alien Dæmons. (PROSE: The Quantum Archangel)
Before Atlantis' destruction, the civilisation had advanced spaceflight and had reached worlds as far away as the planet Vortis, located in the Isop Galaxy. (PROSE: The Lost Ones)
Circa 1500 BC, Atlantis was destroyed when the Master released the chronovore Kronos. (TV: The Time Monster)
An underwater Atlantean outpost survived beneath the ocean, off the Azores. In 1970, Professor Zaroff discovered the survivors and proposed to raise their settlement from the ocean floor. This would have destroyed the Earth. Zaroff died in the attempt due to the Second Doctor's intervention. (TV: The Underwater Menace)
Later, the Dæmon Azal pointed to the destruction of Atlantis as a warning as to what might happen if he considered Earth, a planet that the Dæmon had helped along, a failed experiment. (TV: The Dæmons)
Atlantis was an exhibit in the Museum of Things That Don't Exist. (PROSE: The Taking of Planet 5)
Other locations of the same name
Edit
The Epoch created a world that was very similar to Atlantis. It was destroyed by Bernice Summerfield and Ruth. (AUDIO: The Kraken's Lament, The Temple of Questions, Private Enemy No. 1, Judgement Day)
Minor references
Edit
The Sixth Doctor once told his companion Flip that there were several versions of Atlantis. (AUDIO: Antidote to Oblivion) The conflicting locations of Atlantis were later used to confuse the directional computer of the Scavenger. (AUDIO: Scavenger) In the Doctor's next incarnation, he mentioned that there were three "Atlantises" and that he had visited all of them. (PROSE: Transit) Among the various visits made by the Doctor across the globe in the past, three possible versions of Atlantis were noted by Jac as UNIT in the 2010s compiled a list of his appearances in order to deduce where the Twelfth Doctor had gone for his final destination. (TV: The Magician's Apprentice)
The Fourth Doctor compared the "lost" human space station Nerva Beacon to Atlantis; they were both the subject of legend. (TV: The Sontaran Experiment)
The Time Agency and the Hokrala Corp were both involved in the sinking of Atlantis. The event was considered a failure for the Time Agency. (PROSE: The Undertaker's Gift)
Behind the scenes
Edit
The various televised Whoniverse visions of Atlantis, or at least the ones presented in The Underwater Menace, The Dæmons, The Time Monster, do not mesh particularly well together.
Noting this, former Producer Barry Letts' noted in his introduction to the first edition of The Doctor Who Programme Guide that Atlantis had three different and incompatible explanations for its destruction. The line in Transit references this. This point would later be enforced in two Big Finish audio plays before being finally recognised on-screen in The Magician's Apprentice.