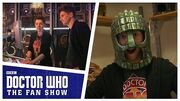 Roath Lock, or Porth y Rhath in Welsh, is a BBC drama village situated in Cardiff near Cardiff Bay, adjacent to Doctor Who Experience. Since 2012, BBC Wales series Doctor Who and Class have filmed here.
The "lock" in the name refers to the waterway linking Roath Basin to Roath Dock and Cardiff Bay, and the studios are built next to the former lock-keeper's cottage.[1]
Construction began in 2010, and completed on 20 February 2011. The production centre is 170,000 square feet in area. It was acquired through a partnership between the Welsh government, Cardiff Council and the site developers igloo Regeneration. VINCI Construction UK was involved in its construction.[2][3]
Roath Lock officially opened on 12 March 2012.[1][4]
External links
Edit
Footnotes
Edit
Ad blocker interference detected!
Wikia is a free-to-use site that makes money from advertising. We have a modified experience for viewers using ad blockers

Wikia is not accessible if you've made further modifications. Remove the custom ad blocker rule(s) and the page will load as expected.