BBC Past Doctor Adventures
45,673
articles in progress
Talk

2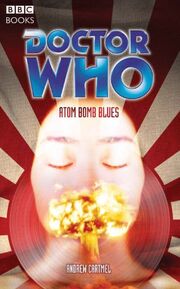 The BBC Past Doctor Adventures was a series of paperback novel releases by BBC Books, launched in 1997 in conjunction with its Eighth Doctor Adventures line. The line featured new adventures of the first seven Doctors, with the exception of four releases: Scream of the Shalka, which was a novelisation of a webcast story featuring the alternative Ninth Doctor; The Infinity Doctors, featuring an unspecified Doctor; The Face of the Enemy, featuring the Master; and one of the last novels, Fear Itself, which was the only PDA with the Eighth Doctor in a lead role, acknowledging the coming of the Ninth Doctor on television.
The series ended in late 2005 (along with the EDA line) when BBC Books decided to focus its publishing ventures on books related to the revived TV series. Although there was speculation regarding the PDA line resuming with novels featuring the Eighth Doctor and even the Ninth Doctor, as of 2013 the line has yet to resume in its original paperback format.
That's not, of course, to say that there haven't been a few other "adventures involving past Doctors" that have been published since the advent of the BBC Wales era. But things like the Short Trips series of short story anthologies and mass market hardcovers like Harvest of Time have a different format to the Past Doctors Adventures range.
List of Past Doctor Adventures
Edit
| | | | | | |
| --- | --- | --- | --- | --- | --- |
| # | Title | Author | Doctor | Companions | Published |
| 1 | The Devil Goblins from Neptune | Martin Day and Keith Topping | 3rd | Liz | 2 June 1997 |
| 2 | The Murder Game | Steve Lyons | 2nd | Ben, Polly | 7 July 1997 |
| 3 | The Ultimate Treasure | Christopher Bulis | 5th | Peri | 18 August 1997 |
| 4 | Business Unusual | Gary Russell | 6th | Mel | 1 September 1997 |
| 5 | Illegal Alien | Mike Tucker and Robert Perry | 7th | Ace | 6 October 1997 |
| 6 | The Roundheads | Mark Gatiss | 2nd | Ben, Polly, Jamie | 24 November 1997 |
| 7 | The Face of the Enemy | David A. McIntee | The Master | Barbara, Ian | 5 January 1998 |
| 8 | Eye of Heaven | Jim Mortimore | 4th | Leela | 2 February 1998 |
| 9 | The Witch Hunters | Steve Lyons | 1st | Susan, Barbara, Ian | 2 March 1998 |
| 10 | The Hollow Men | Martin Day and Keith Topping | 7th | Ace | 6 April 1998 |
| 11 | Catastrophea | Terrance Dicks | 3rd | Jo | 5 May 1998 |
| 12 | Mission: Impractical | David A. McIntee | 6th | Frobisher | 8 June 1998 |
| 13 | Zeta Major | Simon Messingham | 5th | Nyssa, Tegan | 6 July 1998 |
| 14 | Dreams of Empire | Justin Richards | 2nd | Jamie, Victoria | 3 August 1998 |
| 15 | Last Man Running | Chris Boucher | 4th | Leela | 7 September 1998 |
| 16 | Matrix | Mike Tucker and Robert Perry | 7th | Ace | 5 October 1998 |
| 17 | The Infinity Doctors | Lance Parkin | Unspecified Doctor | none | 16 November 1998 |
| 18 | Salvation | Steve Lyons | 1st | Steven, Dodo | 4 January 1999 |
| 19 | The Wages of Sin | David A. McIntee | 3rd | Jo, Liz | 1 February 1999 |
| 20 | Deep Blue | Mark Morris | 5th | Tegan, Turlough | 1 March 1999 |
| 21 | Players | Terrance Dicks | 6th | Peri | 6 April 1999 |
| 22 | Millennium Shock | Justin Richards | 4th | none | 10 May 1999 |
| 23 | Storm Harvest | Mike Tucker and Robert Perry | 7th | Ace | 7 June 1999 |
| 24 | The Final Sanction | Steve Lyons | 2nd | Jamie, Zoe | 5 July 1999 |
| 25 | City at World's End | Christopher Bulis | 1st | Susan, Barbara, Ian | 6 September 1999 |
| 26 | Divided Loyalties | Gary Russell | 5th | Adric, Nyssa, Tegan | 4 October 1999 |
| 27 | Corpse Marker | Chris Boucher | 4th | Leela | 29 November 1999 |
| 28 | Last of the Gaderene | Mark Gatiss | 3rd | Jo | 4 January 2000 |
| 29 | Tomb of Valdemar | Simon Messingham | 4th | Romana | 7 February 2000 |
| 30 | Verdigris | Paul Magrs | 3rd | Jo | 3 April 2000 |
| 31 | Grave Matter | Justin Richards | 6th | Peri | 1 May 2000 |
| 32 | Heart of TARDIS | Dave Stone | 2nd, 4th | Jamie, Victoria, Romana | 5 June 2000 |
| 33 | Prime Time | Mike Tucker | 7th | Ace | 3 July 2000 |
| 34 | Imperial Moon | Christopher Bulis | 5th | Turlough, Kamelion | 7 August 2000 |
| 35 | Festival of Death | Jonathan Morris | 4th | Romana, K9 | 4 September 2000 |
| 36 | Independence Day | Peter Darvill-Evans | 7th | Ace | 2 October 2000 |
| 37 | The King of Terror | Keith Topping | 5th | Tegan, Turlough | 6 November 2000 |
| 38 | The Quantum Archangel | Craig Hinton | 6th | Mel | 8 January 2001 |
| 39 | Bunker Soldiers | Martin Day | 1st | Steven, Dodo | 5 February 2001 |
| 40 | Rags | Mick Lewis | 3rd | Jo | 5 March 2001 |
| 41 | The Shadow in the Glass | Justin Richards and Stephen Cole | 6th | none | 2 April 2001 |
| 42 | Asylum | Peter Darvill-Evans | 4th | Nyssa | 7 May 2001 |
| 43 | Superior Beings | Nick Walters | 5th | Peri | 4 June 2001 |
| 44 | Byzantium! | Keith Topping | 1st | Barbara, Ian, Vicki | 2 July 2001 |
| 45 | Bullet Time | David A. McIntee | 7th | none | 6 August 2001 |
| 46 | Psi-ence Fiction | Chris Boucher | 4th | Leela | 3 September 2001 |
| 47 | Dying in the Sun | Jon de Burgh Miller | 2nd | Ben, Polly | 1 October 2001 |
| 48 | Instruments of Darkness | Gary Russell | 6th | Mel | 5 November 2001 |
| 49 | Relative Dementias | Mark Michalowski | 7th | Ace | 7 January 2002 |
| 50 | Drift | Simon A. Forward | 4th | Leela | 4 February 2002 |
| 51 | Palace of the Red Sun | Christopher Bulis | 6th | Peri | 4 March 2002 |
| 52 | Amorality Tale | David Bishop | 3rd | Sarah | 8 April 2002 |
| 53 | Warmonger | Terrance Dicks | 5th | Peri | 6 May 2002 |
| 54 | Ten Little Aliens | Stephen Cole | 1st | Ben, Polly | 3 June 2002 |
| 55 | Combat Rock | Mick Lewis | 2nd | Jamie, Victoria | 1 July 2002 |
| 56 | The Suns of Caresh | Paul Saint | 3rd | Jo | 5 August 2002 |
| 57 | Heritage | Dale Smith | 7th | Ace | 7 October 2002 |
| 58 | Fear of the Dark | Trevor Baxendale | 5th | Nyssa, Tegan | 6 January 2003 |
| 59 | Blue Box | Kate Orman | 6th | Peri | 3 March 2003 |
| 60 | Loving the Alien | Mike Tucker and Robert Perry | 7th | Ace | 5 May 2003 |
| 61 | The Colony of Lies | Colin Brake | 2nd | Jamie, Zoe | 7 July 2003 |
| 62 | Wolfsbane | Jacqueline Rayner | 4th, 8th | Sarah, Harry | 1 September 2003 |
| 63 | Deadly Reunion | Terrance Dicks and Barry Letts | 3rd | Jo | 3 November 2003 |
| | Scream of the Shalka | Paul Cornell | Alternative Ninth Doctor | Alison, The Master | 2 February 2004 |
| 64 | Empire of Death | David Bishop | 5th | Nyssa | 1 March 2004 |
| 65 | The Eleventh Tiger | David A. McIntee | 1st | Barbara, Ian, Vicki | 3 May 2004 |
| 66 | Synthespians™ | Craig Hinton | 6th | Peri | 19 July 2004 |
| 67 | The Algebra of Ice | Lloyd Rose | 7th | Ace | 6 September 2004 |
| 68 | The Indestructible Man | Simon Messingham | 2nd | Jamie, Zoe | 1 November 2004 |
| 69 | Match of the Day | Chris Boucher | 4th | Leela | 3 January 2005 |
| 70 | Island of Death | Barry Letts | 3rd | Sarah | 7 July 2005 |
| 71 | Spiral Scratch | Gary Russell | 6th | Mel | 4 August 2005 |
| 72 | Fear Itself | Nick Wallace | 8th | Fitz, Anji | 8 September 2005 |
| 73 | World Game | Terrance Dicks | 2nd | Serena | 6 October 2005 |
| 74 | The Time Travellers | Simon Guerrier | 1st | Susan, Barbara, Ian | 10 November 2005 |
| 75 | Atom Bomb Blues | Andrew Cartmel | 7th | Ace | 25 December 2005 |
External links
Edit
BBC Past Doctor Adventures