BBC Television Centre was a television production facility in Shepherd's Bush in the London borough of Hammersmith and Fulham. It was located within walking distance of the former site of Lime Grove Studios and close to Riverside Studios. It is one of the oldest buildings in the world specially built for television production, officially opened on 29 June 1960. It closed as a BBC facility on 31 March 2013, more than 50 years after its opening.[1]
Although most intimately connected to the colour era of the original series of Doctor Who, it has been used to record at least parts of stories of each of the first nine Doctors, except the Eighth, and has been the subject of an episode of Doctor Who Confidential directed and hosted by David Tennant.
Site history
Edit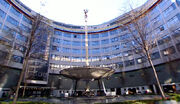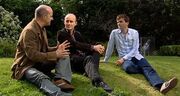 Building commenced on Television Centre almost at the dawn of the television age in Britain. Groundbreaking was in 1951, and the building was officially opened in 1960. At the time it was possessed of a highly innovative design that allowed all its studios to be essentially interchangeable. Even the exterior was remarkable, as it deliberately formed the shape of a question mark.[2] Numerous upgrades to the site allowed it to maintain its utility as a producer of drama into the 1990s. However, as the whole basis of the design had assumed multi-camera, video recording, TV Centre suddenly became useless when most dramas switched to single camera set-ups. The BBC Wales version of Doctor Who, for instance, simply could not be filmed at Television Centre due to this inherent design element. In the mid-1990s, it switched its focus from drama to news and other forms of non-fictional entertainment that still use multiple cameras. However, a 2007 assessment determined that, even with the change of emphasis, the facilities were still under-used. As a result, a decision was taken to sell off the property in an effort to make better use of the BBC's assets.
On 16 July 2012, it was announced that Centre was sold to Stanhope plc for around 200 million pounds.[3] The building was closed as a BBC-owned facility on 31 March 2013. As a Grade II listed building, it was not demolished thereafter, but instead extensively refurbished by its new owners. Space was then rented to several parties, including various BBC commercial entities, like BBC Worldwide and BBC Post Production.[1] But the non-profit "BBC proper", which had owned the facility, moved to BBC Broadcasting House. A highly publicised grand opening, which included a brief meeting between HM Elizabeth II and Jenna Coleman, formally launched the new age of BBC television production.[4]
Alternate name
Edit
Television Centre is sometimes referred to as "Shepherd's Bush" by BBC employees, perhaps because it is the usual penchant for studios to have simple geographic names, like "Ealing", "Lime Grove", or "Teddington". This would have been especially appropriate during the period Television Centre was being most heavily used by Doctor Who, as it was merely the centre of a whole cluster of buildings in Shepherd's Bush that the BBC used in various capacities to produce their content. This tradition has been maintained in the BBC Wales production of Doctor Who, in which the "BBC Studios" are frequently called "Upper Boat", in deference to their location.
As recording studio
Edit
As location
Edit
As documentary subject
Edit
Television Centre was the subject of David Tennant's documentary, "Do You Remember the First Time?", aired as episode 10 of the third series of Doctor Who Confidential. Extensive historical and modern footage of the building was featured, including a cursory examination of which episodes of classic Doctor Who were filmed in which specific studios. For most of the "walkabout" tour of the complex, Tennant was accompanied by writer and future Doctor Who showrunner, Steven Moffat.
It also serves as the backdrop to some of Jon Pertwee's narration of The Pertwee Years, a direct-to-video retrospective on his era in Doctor Who.
In the DWU
Edit
Television Centre was bombed - knocking the BBC off the air — during the Internal Counter-Intelligence Service's attempted coup in The Longest Night.
Television Centre is the location of an Eighth Doctor comic, TV Action!, in which the Eighth Doctor and Izzy Sinclair chase Beep the Meep into an alternate universe. There, they land on 12 October 1979 just outside what is presumably the "real" Television Centre. A mad chase through various studios ensues, but Beep has mistaken Tom Baker for the real Fourth Doctor. Beep wishes to extract revenge against Baker for the events of the Fourth Doctor strip, Doctor Who and the Star Beast, but in the end, the actor's tendency to ramble subdues the alien long enough to allow Izzy to overload Beep's Black Star drive, ending the adventure. Much of Television Centre is reasonably accurately portrayed, with the main entrance, central fountain, Blue Peter garden, and circular studio space being recognisably captured by artist Roger Langridge.
Footnotes
Edit
Ad blocker interference detected!
Wikia is a free-to-use site that makes money from advertising. We have a modified experience for viewers using ad blockers

Wikia is not accessible if you've made further modifications. Remove the custom ad blocker rule(s) and the page will load as expected.