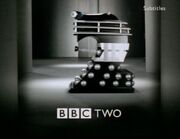 BBC Two — styled BBC2 and BBC-2 until 1997 — is the British Broadcasting Corporation's second channel, and was launched on 20 April 1964. A number of Doctor Who serials were re-broadcast upon the channel. For example, after restoration and its VHS release, Doctor Who and the Silurians was aired. The second series of Torchwood and its accompanying Torchwood Declassified was also broadcast upon it. It also broadcast the BBC Choice ident.
Specials
Edit
External links
Edit
Ad blocker interference detected!
Wikia is a free-to-use site that makes money from advertising. We have a modified experience for viewers using ad blockers

Wikia is not accessible if you've made further modifications. Remove the custom ad blocker rule(s) and the page will load as expected.