This topic might have a better name.
Defenders of the Earth because Clyde referred to them as that as a title in the Day of the Clown novelisation.
Talk about it here.
The Bannerman Road gang were a group of teenagers and one adult that was formed by Sarah Jane Smith, a former companion of the Doctor to help her fight alien threats that came to Earth.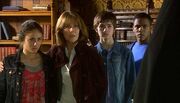 The group initially consisted of just Sarah and Maria Jackson, but Luke Smith joined after being rescued by Sarah from the Bane. (TV: Invasion of the Bane)
Clyde Langer later joined after helping Maria and Luke to fight off the Slitheen, (TV: Revenge of the Slitheen) and the group soon became very close knit.
Maria later moved to America with her father, and a new girl called Rani Chandra moved into Maria's old house and soon joined the gang. (TV: The Last Sontaran, The Day of the Clown)
Luke eventually moved to university, but stayed in contact with rest of the group. (TV: The Nightmare Man)
After being rescued by Sarah Jane, Sky Smith later joined the group. (TV: Sky)
Other members included Mr Smith, a Xylok, (TV: The Lost Boy) and K9, a robot dog gifted to Sarah by the Doctor. (TV: School Reunion)
Ad blocker interference detected!
Wikia is a free-to-use site that makes money from advertising. We have a modified experience for viewers using ad blockers

Wikia is not accessible if you've made further modifications. Remove the custom ad blocker rule(s) and the page will load as expected.