Battle TARDIS
Talk

0
32,712
articles in progress
Battle TARDISes were the usual type of TARDIS used in battle before the War with the Enemy and other temporal wars. Contrary to the Doctor's Type 40 TARDIS and other conventional TARDISes designed for contemporary time travel without the threat of attack, these were equipped with heavy armaments to engage in battle at a second's notice while being flown into hostile locations. The Celestial Intervention Agency made significant use of them.
Their main weaponry were time torpedoes, which could be used to freeze time and thus suspend other vessels in the Vortex.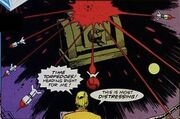 The CIA used at least one Battle TARDIS, commanded by Tubal Cain, to capture the Fifth Doctor after he had brought an elemental being to Stockbridge. (COMIC: The Stockbridge Horror)
A flotilla of Battle TARDISes were sent to gather the Eighth Doctor and Charlotte Pollard for the fight against Anti-Time. The Doctor initially avoided them (AUDIO: Embrace the Darkness), but they eventually caught up to his TARDIS and snared it with time torpedoes. (AUDIO: Neverland)
Over a million Battle TARDISes were used by the Time Lords in the Last Great Time War. (PROSE: Peacemaker) They were presumably lost with the destruction of the planet Gallifrey and Time Lord society altogether.
See also
Edit