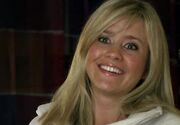 Bethan Britton — variously credited as Bethan Britten and Beth Britton — was the credited contracts assistant on a few episodes of the BBC Wales version of Doctor Who from The Runaway Bride to The Unicorn and the Wasp. She served in the same capacity for some first series episodes of Torchwood. She was also the assistant accountant on They Keep Killing Suzie.
Between October 2007 and February 2008, she dated actor David Tennant.
By the time of series 5 she was working as a "brand and events executive", and was ostensibly in charge of the scheduling the so-called "Doctor Who Bus Tour". During this event, Matt Smith and Karen Gillan travelled across the United Kingdom, showing The Eleventh Hour to various school groups, in advance of its 3 April 2010 television premiere.
The BBC Wales Doctor Who universe programmes comprise the main body of her resumé, as of 2016 .
External links
Edit
Ad blocker interference detected!
Wikia is a free-to-use site that makes money from advertising. We have a modified experience for viewers using ad blockers

Wikia is not accessible if you've made further modifications. Remove the custom ad blocker rule(s) and the page will load as expected.