Blood
Talk

0
32,716
articles in progress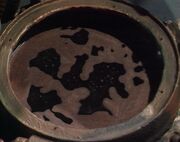 Blood was an essential fluid of many life forms, Gallifreyans and humans included.
Human blood, which was red, was divided into two types of blood cells, red and white, with red containing iron. (TV: Bad Wolf)
Significance
Edit
Some organisms consumed blood in order to survive, namely Vampires, Haemovores, Plasmavores and Saturnyns. (TV: State of Decay, The Curse of Fenric, Smith and Jones, The Vampires of Venice) However, in the case of Saturnyns, it was due to the thirst being on dry land caused them.
The Three Who Rule would only drink the blood of the living. However, they killed villagers and used tubing to store their blood in the fuel tanks of the Hydrax. This was then fed to the King Vampire. (TV: State of Decay)
On their home planet, the Ogri subsisted on amino acids, but found that the blood of Earth life forms, including humans, would also suffice. This lead to human sacrifices at Stonehedge. (TV: The Stones of Blood)
Other species, such as Vortisaurs and Androgums, did not subsist off of blood exclusively, but would consume it as part of a more varied diet. (AUDIO: Storm Warning, TV: The Two Doctors)
Vastra used to drink a beverage whose colour was similar to red wine. Probably, it was human blood. (TV: The Snowmen)
Practical Use
Edit
The magic potion Lady Peinforte made to travel in time required human blood. (TV: Silver Nemesis)
Mortimus used the blood of five species whose destinies the Time Lords had affected in a ritual to summon Artemis, the Chronovore. (PROSE: No Future)
Blood also formed an important part of some Faction Paradox rituals. Sometimes biodata would be extracted from the blood of a being to use in a Faction Rite or Ritual. (PROSE: Alien Bodies)
Some species, including the Sycorax, used a form of hypnosis known as blood control. (TV: The Christmas Invasion)
Blood could be transferred to another by the process of blood transfusion. The Eighth Doctor once gave blood to his fourth incarnation via this process. (PROSE: The Eight Doctors)
Judoon scanners checked blood to gather information on the units species. (TV: Smith and Jones)
In 2011, Jack Harkness's immortal blood was used by the Three Families to cause Miracle Day, by inserting it into both ends of the Blessing simultaneously. Later that year, the Miracle was stopped when Jack, nor mortal because of Miracle Day, inserted his blood into one end of the Blessing at Shanghai, while Rex Matheson, who had a transfusion of Jack's mortal blood, inserted it into the other end in Buenos Aires. After the Miracle ended, Jack Harkness became immortal again, as did Rex, much to their shock. (TV: The Blood Line)
Blood types
Edit
On at least Earth, blood was organised into different types. A-positive was the most common type, with one third of humanity in 2006 being A-positive. This was exploited by the Sycorax, who used a sample of A-positive blood in Guinevere One to hypnotise all A-positives via blood control. (TV: The Christmas Invasion)
Being Gallifreyan, the Third Doctor's blood type was unidentifiable when he was examined in Ashbridge Cottage Hospital. (TV: Spearhead from Space)
There were many variations in blood colour.