Buffy the Vampire Slayer (franchise)
Talk

2
40,123
articles in progress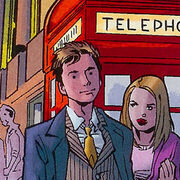 Buffy the Vampire Slayer is an American television series which ran from 1997 to 2003, and was created by Joss Whedon. It follows the adventures of Buffy Summers, chosen by mystical forces to be the Slayer, and who fights vampires and other demons with her friends. The television series also had a spin-off, Angel; The fictional universe in which both series, as well as their various tie-in media, inhabit is known as the "Buffyverse".
The Tenth Doctor and Rose Tyler made a cameo appearance in the canonical comic No Future for You alongside a red telephone box.
David Tennant also later appeared as himself in the comic In Perfect Harmony.
Similarities
Edit
Connections with Doctor Who
Edit
Connections with Torchwood
Edit
External links
Edit
The Buffyverse wiki, a wiki focusing on Buffy The Vampire Slayer, its spin-offs, and expanded media.
Doctor Who, on the Buffyverse wiki.