Buffy the Vampire Slayer (franchise)
Talk

2
39,785
articles in progress
Buffy the Vampire Slayer is an American television series which ran from 1997 to 2003, and was created by Joss Whedon. It follows the adventures of Buffy Summers, chosen by mystical forces to be the Slayer, and who fights vampires and other demons with her friends. The television series also had a spin-off, Angel; The fictional universe in which both series, as well as their various tie-in media, inhabit is known as the "Buffyverse".
The Tenth Doctor and Rose Tyler made a cameo appearance in the canonical comic No Future for You, Part One alongside a red telephone box.
David Tennant also later appeared as himself in the comic In Perfect Harmony.
Similarities
Edit
Connections with Doctor Who
Edit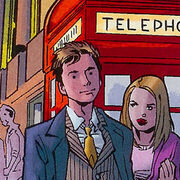 It has been acknowledged that some of the dialogue in School Reunion, such as Finch's line "ignore the shooty-dog thing," was inspired by the style of writing used on Buffy.
The 2001 Buffy episode "Smashed" references the series when Andrew mentions he has seen "every episode of Doctor Who."
Russell T Davies has mentioned that the Buffy episode "The Zeppo" was a possible influence on the Doctor Who episode Love & Monsters.
A reference to the series is made in PROSE: Homework, where a character from the year 2008 is said to be wearing "a T-shirt that said Duffy the Vampire or something."
"William the Bloody Awful Poet," the former human self of the vampire Spike, briefly appears in Camera Obscura.
Although unlikely to be made, a potential spin-off titled Ripper has been discussed as a BBC co-production when Anthony Head introduced Whedon to Doctor Who producer Julie Gardner.
Seeing Sam Jones armed with a wooden stake, the vampire Slake said: "Well, well, if it isn't Buffy the Vampire Slayer!" (PROSE: Vampire Science)
Buffy creator Joss Whedon expressed admiration for Russell T. Davies while speaking as part of the Dr. Horrible's Sing-Along Blog panel at the 2008 Comic-Con.
The character Fillion, who appears in the comic Space Squid, is named after, and features a likeness to, actor Nathan Fillion, who appeared in the series.
Connections with Torchwood
Edit
External links
Edit
Buffyverse wiki, a wiki focusing on Buffy The Vampire Slayer, its spin-offs, and expanded media.
Doctor Who, on the Buffyverse wiki.