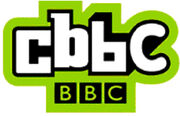 CBBC (Children's BBC) is a television channel broadcast in the United Kingdom, and is affiliated with the main BBC. CBBC is the broadcast home of The Sarah Jane Adventures and, during its fourth season, Sarah Jane's Alien Files. It has also broadcast other Doctor Who-related programming, including the animated serial Dreamland. It also aired the show Totally Doctor Who and the animated series The Infinite Quest, which was a part of Totally Doctor Who.
External link
Edit
Ad blocker interference detected!
Wikia is a free-to-use site that makes money from advertising. We have a modified experience for viewers using ad blockers

Wikia is not accessible if you've made further modifications. Remove the custom ad blocker rule(s) and the page will load as expected.