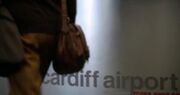 Cardiff Airport was located in the Welsh capital of Cardiff.
Gwen Cooper once flew there under the alias of Yvonne Pallister and met Rhys Williams at the airport. (TV: The Categories of Life)
Cardiff airport was very small.
There were direct flights to Paris, Malaga and Schiphol Airport in Amsterdam.
One of the airlines serving the Amsterdam route was KLM. (AUDIO: Orr)