Ad blocker interference detected!
Wikia is a free-to-use site that makes money from advertising. We have a modified experience for viewers using ad blockers

Wikia is not accessible if you've made further modifications. Remove the custom ad blocker rule(s) and the page will load as expected.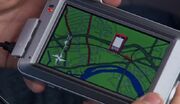 Carla Langer's advanced satnav, was a normal automotive navigation system which was updated with UNIT software.
UNIT had a satellite tracking system. Alan Jackson hacked into their system and uploaded the UNIT track onto the satnav. Later it could be used to track people down by adding their mobile phone number.
In 2009 Luke Smith, Rani Chandra and Carla Langer used the satnav to track down Clyde Langer, whose father has used the Berserker pendant to make Clyde forget about them. (TV: The Mark of the Berserker)
The satnav was used again later that year. Clyde and Luke missed the school bus for their class trip to Snowdonia. Sarah Jane Smith had to drive them there with her car. They used the satnav to track down the school bus and find their class mates. Furthermore Sara Jane tracked down Luke's mobile phone when he went after one of the Shadow People. (AUDIO: The Shadow People)