Cat

Scrub away the lists, ladies.
This article contains far too many bulleted lists. These sections should be converted into normal prose.
A cat was a type of predatory and usually small feline mammal. Cats came in a variety of colours and shapes and were commonly domesticated as pets. (PROSE: Human Nature)
The Tenth Doctor once claimed the cats on Earth weren't native to the planet, but were aliens. Rather than the prosaic names their human "owners" tended to give them, their actual names were much grander like "Great Hunter Grimalkin Greycoat Lionheart". Donna believed he was pulling her leg. (COMIC: Autopia)
Regardless of the truth of this claim, cats became extinct on Earth before the year 2157. (PROSE: Lucifer Rising)
Cats in Earth culture
edit
Victorian showmen used to draw the crowds by taking the skull of a cat, glueing it to a fish, and calling it a mermaid. The Ninth Doctor compared the Slitheen's Space Pig with this trick while explaining the Space Pig's true nature to Toshiko Sato. (TV: Aliens of London)
Cats and the Doctor
edit
The Doctor's relationship with cats varied.
First Doctor
edit
Fourth Doctor
edit
Fifth Doctor
edit
Sixth Doctor
edit
Seventh Doctor
edit
The Seventh Doctor and Ace enountered a mysterious black cat-like extraterrestrial that was transporting humans to another world. The two initially thought it was a house cat until its alien nature was identified. This was actually a Kitling. (TV: Survival)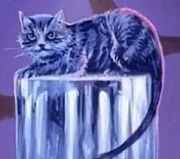 Eighth Doctor
edit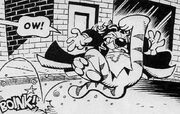 Ninth Doctor
edit
Tenth Doctor
edit
Eleventh Doctor
edit
Other cats
edit
Behind the scenes
edit