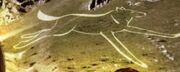 Chalk figures were ancient chalk images carved into hill sides. Usually, there were huge chalk drawings of horses or primitive men.
Near Cerne Abbas and Wilmington, there were chalk figures of a giant men. Uffington and Cherhill were famous for hill figures of white horses. Mr Smith knew about the figures and told Sarah Jane Smith about them.
In Wolfenden, there was a chalk drawing of a White Wolf. This drawing was almost unique in Britain. There were only some wolf drawings in Western Europe.
Sarah Jane told the inhabitants of Wolfenden that she had written a book about chalk figures. (AUDIO: The White Wolf)
Ad blocker interference detected!
Wikia is a free-to-use site that makes money from advertising. We have a modified experience for viewers using ad blockers

Wikia is not accessible if you've made further modifications. Remove the custom ad blocker rule(s) and the page will load as expected.