Character Building
Publisher:
Character Options
Type:
Minifigures
Release date:
2011
Advertisement

00:31

Character Building

Another advertisement

00:20

Character Building playsets
Character Building was the name of a whole class of Character Options figures and playsets. The Character Building line featured micro-figures somewhat reminiscent of the main lines of LEGO products. Character Options produced Character Building figures for several different franchises. In the spring of 2011, they began releasing such figures under their Doctor Who licence. Most of the figures came from stories in the Steven Moffat era of the programme. There are three series of blind figure packets, one from 2010, one from 2011, and one from 2012. A fourth series was announced at the London Toy Fair in 2014.
List of Character Options: Building sets
Edit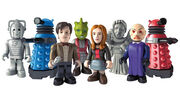 Wave One
Edit
Wave Two
Edit
Wave Three
Edit
Daily Mirror
Edit
Set exclusives
Edit
External link
Edit