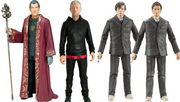 Having bypassed the other 2009 specials, Character Options manufactured Doctor Who action figures in the 5" scale which tied into The End of Time. These figures were the last released in the David Tennant era and surfaced in January 2010. They were the first new Character Options figures based on the BBC Wales series since December 2008.
The range consisted of four figures: a "damaged" version of the Tenth Doctor, the John Simm Master, Timothy Dalton's Rassilon (though released under the name "Lord President" ) and Matt Smith's immediately post-regenerative Eleventh Doctor.
As was customary for Character Options, the figures were not actually 5" tall. Instead the Dalek figure was 5" tall and all of the other figures were scaled to match it.[1]
Footnotes
Edit
Ad blocker interference detected!
Wikia is a free-to-use site that makes money from advertising. We have a modified experience for viewers using ad blockers

Wikia is not accessible if you've made further modifications. Remove the custom ad blocker rule(s) and the page will load as expected.