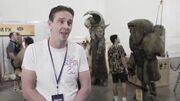 Charlie Bluett was a prosthetics technician for Doctor Who and Torchwood. Though only credited on Turn Left and Children of Earth: Day Three, Charlie continued to work as technician and supervisor with Millennium FX. As such, he has worked further on Doctor Who, as well as on Torchwood, SJA and Class.
As part of his job, he is a self-described "effects all-rounder", doing sculpting, moulding, casting and painting.
Charlie also works freelance, out of a small workshop, as CBFX.
External links
Edit
Ad blocker interference detected!
Wikia is a free-to-use site that makes money from advertising. We have a modified experience for viewers using ad blockers

Wikia is not accessible if you've made further modifications. Remove the custom ad blocker rule(s) and the page will load as expected.