Child of Time was the eleventh and final book in the Time Hunter series. It was written by George Mann and David J. Howe.
Publisher's summary
Edit
When Honoré and Emily investigate the bones of a young woman in the ruins of a collapsed house, they are thrown into a thrilling adventure that takes them from London in 1951 to Venice in 1586 and then forward a thousand years, to the terrifying, devastated London of 2586, ruled over by the sinister Sodality.
What is the terrible truth about Emily's forgotten past? What demonic power are the Sodality plotting to reawaken? And who is the mysterious Dr Smith?
All is revealed in the stunning conclusion to the acclaimed Time Hunter series.
Part mystery, part detective story, part dark fantasy, part science fiction ... original adventures in time and space.
to be added
Characters
Edit
References
Edit
The Cabal of the Horned Beast found a book of ancient magic that enabled them to control Time and summon demons, eventually using the psionic sciences to travel through Time, conducting experiments to breed time-sensitives and time-channellers, and changing their own past to turn the insignificant Cabal into the all-powerful Sodality.
Slaves of the Sodality have runes carved into their flesh, and some are turned into mechanical hybrids.
All time-sensitives and time-channellers were created by the Sodality.
Continuity
Edit
Audio release
Edit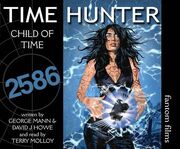 The story was released as an audiobook read by Terry Molloy.
External links
Edit