Ad blocker interference detected!
Wikia is a free-to-use site that makes money from advertising. We have a modified experience for viewers using ad blockers

Wikia is not accessible if you've made further modifications. Remove the custom ad blocker rule(s) and the page will load as expected.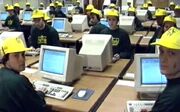 Chillys were students of the New World University.
They wore a uniform consisting of a yellow baseball cap bearing the New World University logo and a dark green sweatshirt with the NWU logo in yellow across the front, as well as headphones through which they listened to a hypnotic electronic beat.
They had all been possessed by the Great Intelligence. (HOMEVID: Downtime, PROSE: Downtime)