This page needs to be updated.
Information from Revolutions of Terror, Echo, The Fountains of Forever, Spiral Staircase, Sins of the Father, Cindy, Cleo and the Magic Sketchbook, Arena of Fear, The Wishing Well Witch, The Infinite Corridor, The Jazz Monster, Music Man, Old Girl, Breakfast at Tyranny's, Lady of the Blue Box and Supremacy of the Cybermen needs to be added
These omissions are so great that the article's factual accuracy has been compromised. Check out the discussion page and revision history for further clues about what needs to be updated in this article.

Cindy Wu was a friend of the Tenth Doctor's companion Gabby Gonzalez, and became involved in many of their adventures, eventually becoming a companion of the Doctor's alongside Gabby.
Biography
Edit
Cindy was born in Canada. (COMIC: The Wishing Well Witch) At some point she immigrated to Brooklyn, New York; where she became childhood friends with Gabby Gonzalez.
When the pair were ten or eleven, they went to summer camp at Echo Lake. During one night, the pair were told a campfire story about a Rabid Raccoon which would stalk the camp grounds looking to attack anyone who got too close. Gabby and Cindy spent the night cowering inside their tent, shining a flashlight out into the dark. Eventually they fell asleep. The next morning they realized that the whole story was a hoax made-up by the counselors. (COMIC: Cindy, Cleo and the Magic Sketchbook)
She said her dad loved his children, but "the weight of his expectation would crush you." She was going to college for social science.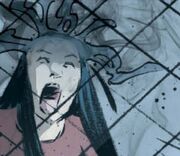 One day, while Cindy was hanging out with Gabby in Gabby's family's
laundromat
, all the washing machines malfunctioned and exploded around them. The two girls cleaned up the mess. Later, Cindy became possessed by a
Cerebravore
and tried to break into the laundromat, where Gabby barricaded. (
COMIC
:
Revolutions of Terror
)
When Gabby returned from her travels with the Doctor, she told Cindy about them. (COMIC: Echo)
Initially, Cindy attributed these stories to Gabby's imagination. When Gabby received a disturbing message from the Doctor, Cindy insisted on following her to the Upper East Side and found herself in Dorothy Bell's apartment just in time to witness her rejuvenation. (COMIC: The Fountains of Forever)
Companions of the Tenth Doctor

Original to television

Original to prose

Original to comics

Original to audio
Multi-adventures reference the rare instance when a companion is shown or stated to have multiple adventures with the Doctor but only appears in a single story.
If a medium is not mentioned, then this incarnation did not have companions who were original to that medium; it does not mean that this Doctor failed to appear in that medium.
Ad blocker interference detected!
Wikia is a free-to-use site that makes money from advertising. We have a modified experience for viewers using ad blockers

Wikia is not accessible if you've made further modifications. Remove the custom ad blocker rule(s) and the page will load as expected.