Ad blocker interference detected!
Wikia is a free-to-use site that makes money from advertising. We have a modified experience for viewers using ad blockers

Wikia is not accessible if you've made further modifications. Remove the custom ad blocker rule(s) and the page will load as expected.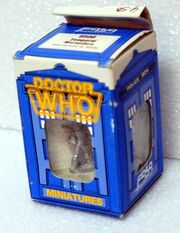 Citadel Miniatures, a subsidiary of Games Workshop, created a set of 25mm miniatures in the 80s which were co-branded with FASA to be sold in conjunction with the Doctor Who Role Playing Game. For the US market, the sets were actually produced by RAFM Miniatures.
List of items
Edit
There were two ranges produced' almost all pieces were carried in both ranges. Most items were sets of three.
FASA range
9501 The Five Doctors (First Doctor, Second Doctor, Third Doctor, Fourth Doctor, Fifth Doctor)
9502 Companions Set #1 (Adric, Leela, Sarah Jane)
9503 Daleks (3)
9504 Cybermen (3, Earthshock style, different poses)
9505 The Brigadier & U.N.I.T. Troopers (1 advancing, 1 firing)
9506 John Benton & U.N.I.T. Troopers (1 advancing, 1 firing)
9507 Player Character Time Lords #1 (3, different models)
9508 Temporal Marauders (3, different models)
9509 Ice Warriors (Ice Lord, Ice Warriors 1, Ice Warrior 2)
9510 Player Character Time Lords #2 (3, different models)
9511 The Master, Davros & Dalek
9512 Companions Set #2 (Jo Grant, Romana I, Turlough)
9513 Player Character Time Lords #3 (3, different models)
9514 Sea Devils (3, The Sea Devils style, different poses)
Citadel range
External links
Edit