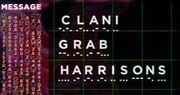 Clani was the portmanteau of Clyde Langer and Rani Chandra's first names. In 2011, the word was invented by Luke Smith at the University of Oxford, and was, for an indefinite period of time, shared privately among the three. Sarah Jane Smith first became aware of the word on Luke's initial meeting with his adoptive sister Sky around the time of the introduction of the SerfBoard.
Rani wrote off the term as a lame attempt at humour, but also asked Luke, "Don't call us that." (TV: The Man Who Never Was)
Behind the scenes
Edit
Clani is a term that originated in fandom, and was in particular use amongst people who wrote fan fiction. It described a kind of story that focused on the relationship between Clyde and Rani, often stressing its romantic possibilities.
Ad blocker interference detected!
Wikia is a free-to-use site that makes money from advertising. We have a modified experience for viewers using ad blockers

Wikia is not accessible if you've made further modifications. Remove the custom ad blocker rule(s) and the page will load as expected.