Counter-Measures
Talk

0
32,653
articles in progress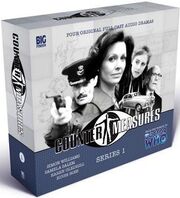 Counter-Measures is an audio series from Big Finish Productions. The first series was released in July 2012. The stories involve Group Captain Ian Gilmore, Professor Rachel Jensen and Allison Williams, three characters introduced in TV: Remembrance of the Daleks. The series involves them, in their capacity as members of the Intrusion Countermeasures Group (ICMG), solving mysteries involving paranormal or alien phenomena in Britain in 1964. Simon Williams, Pamela Salem and Karen Gledhill reprise their roles as Gilmore, Rachel and Allison respectively. They are joined in the regular cast by Hugh Ross as Toby Kinsella, the ICMG's liaison with the British government, and Alastair Mackenzie as Julian St. Stephen, Allison's boyfriend of three years. Guest stars in the series include Vernon Dobtcheff, Stephen Greif and Adrian Lukis.
The series will be "steeped in the period of early Sixties Britain" and the four stories will "comprise a terrifying ghost story, the discovery of a new artificial intelligence, a mystery in a new town and an attempt to change the future direction of the country."
Series One
Cast
Notes
As with most of the Big Finish series, the main cast does not change between stories but there are many guest characters and cast.
Ian Gilmore, Rachel Jensen and Allison Williams are the only characters from the classic series to appear in Counter-Measures.
External links