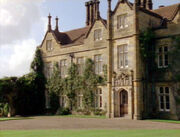 Cranleigh Hall was a large estate in Oxfordshire, in England, home to the Cranleigh family. It was served by a small railway station, Cranleigh Halt.
On 11 June 1925, the Fifth Doctor, Tegan, Nyssa and Adric were guests at a cricket match and fancy dress party hosted by Lord Cranleigh and his family. (TV: Black Orchid)
Ace visited Cranleigh's party, and stole the ball from the match, knowing its true nature as one of the missing segments of the Key to Time. (COMIC: Time & Time Again)
The Fifth Doctor returned to Cranleigh Hall the following year, for the wedding of Lord Cranleigh and Ann Talbot. (PROSE: The Sands of Time)
Ad blocker interference detected!
Wikia is a free-to-use site that makes money from advertising. We have a modified experience for viewers using ad blockers

Wikia is not accessible if you've made further modifications. Remove the custom ad blocker rule(s) and the page will load as expected.