Cyberman was an audio series that Big Finish Productions produced following their success with the Dalek Empire audio series.
As with Dalek Empire, Cyberman also had some links with other Big Finish audio stories, in particular Sword of Orion.
In Cyberman, the events followed the Orion War in the 26th century, which involved the humans, androids and Cybermen.
Cyberman Edit
Cyberman 2 Edit
Main article: Cyberman 2
Cyberman 2 is the second series, continuing events from the first series of stories.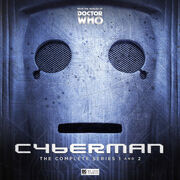 Only Telos has any sort of cast listing. The others state that "Access to classified Scorpius information available at www.bigfinish.com/scorpius" which used to lead to a specially designed portion of the Big Finish site.
A boxset collecting the whole series, Cyberman - The Complete Series 1 & 2, was released in 2016.
External links
Edit