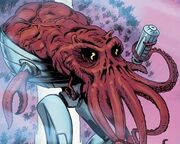 The Cybock Imperium was a group that was considered a threat to the universe.
After defeating the Hyperion, Rassilon and the Alliance of Races embarked on another campaign against threats to universal harmony. One such enemy was Count D'if of the Cybock Imperium. Rassilon challenged D'if to a game of Rassilon's roulette using the Time-Gun of Rassilon. D'if lost and he was wiped from existence. (COMIC: Gangland)
Ad blocker interference detected!
Wikia is a free-to-use site that makes money from advertising. We have a modified experience for viewers using ad blockers

Wikia is not accessible if you've made further modifications. Remove the custom ad blocker rule(s) and the page will load as expected.