The one hundred forty-eighth issue of Doctor Who Adventures had a cover date of 7 January - 13 January 2010.
Contents
Edit
Free gift
Edit
Large cover-mounted lenticular hexagon with the Tenth Doctor changing into the Eleventh and a large sheet of The End of Time stickers.
Information / Fact File (Photo feature and Essential Info)
Edit
PREVIEW: "Goodbye Doctor! Hello Doctor!"
TOP FIVE: Highlights of The End of Time Part Two
FACT FILE: What we will miss most about the Tenth Doctor
FACT FILE: What makes the perfect monster?
TOP TEN: Heroic Exits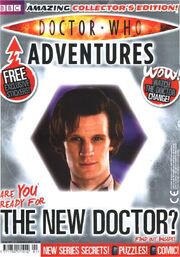 Comic content
Edit
Tales from the TARDIS
Edit
The Doctor's Data (Collectable Fact File)
Edit
Behind the scenes
Edit
Interview
Edit
Additional features
Edit
Find in this issue hidden somewhere Wilf to win a Sarah Jane Adventures The Thirteenth Stone Audio CD adventure.
Make It: Vinvocci mask
Puzzles and Quiz
Readers contributions: Time Agent Upload / Doctor You
featuring reader's letters, photos, and art.
Also listing: what they'll miss about the Tenth Doctor
Editor: Moray Laing, Everything, especially "I'm sorry. I'm So sorry ..."
Deputy Editor: Paul Lang "Weeeeeeeeeeeeeeeell"
Senior Art Editor: Nikki Davies His cheekiness and spiky hair
Production Editor: Liza Millett, Absolutely everything
Designer: Melanie Caine, I still refuse to accept he's gone!
Exit Interview: The Tenth Doctor, Being him!
Hidden Away / Facts
Edit
This magazine can be recycled for use in newspapers or packaging – or you can wrap the Masters chips in it!
Ood Sigma: "We can see you entering the competition. You will enter! You will enter!"
The Tenth Doctor has appeared in 54 television/web adventures.
"The Dreaming" was an Ood circle led by the Elder, when visions of the past and the future occurred.
The Elder Ood with a prominent split-brain look was both old and wise.
Additional details
Edit
The subscription offer for this issue was a saving of 30% (UK) – with a Sarah Jane Adventures audio book The Shadow People additional offer to subscribers.
This issue had a cover price of £2.10 (UK) and its free gifts were attached to the cover.
Next issue's free gift is promoted as a "Two free gifts – which will you get?"
External link
Edit
Ad blocker interference detected!
Wikia is a free-to-use site that makes money from advertising. We have a modified experience for viewers using ad blockers

Wikia is not accessible if you've made further modifications. Remove the custom ad blocker rule(s) and the page will load as expected.