The second issue of Doctor Who: Figurine Collection featured a figurine of the Davros, as depicted in TV: Journey's End.
How Davros was re-imagined for the story Journey's End and how it provided us with his greatest ever moment of madness.

PLUS: How the

BBC

rebuilt an evil genius — and made him even nastier!
Moment in Time
— Return of the
Daleks
For the finale of the 2008 season the Doctor faced a new threat — the Dalek freak show...
It was a big year for the Doctor, with a full-on invasion by the Daleks.
When Earth faces invasion, these people stand up to be counted.
The Big Ask — Your Questions Answered
The man who created the coolest monster design in the universe.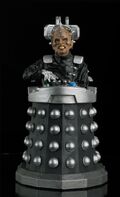 to be added
External links
Edit
Ad blocker interference detected!
Wikia is a free-to-use site that makes money from advertising. We have a modified experience for viewers using ad blockers

Wikia is not accessible if you've made further modifications. Remove the custom ad blocker rule(s) and the page will load as expected.