The fourth issue of Doctor Who: Figurine Collection featured a figurine of a Weeping Angel, as depicted in TV: Flesh and Stone.
Why the Weeping Angels' return in The Time of Angels was so important to the series, and why your figurine is an Angel in attack mode.
Moment in Time — Angels of Death
How Steven Moffat brought back his hit monster — and took its menace to a whole new terrifying level.
Travelling back in time to delve into Doctor Who's glorious past.
The Big Ask — Your Questions Answered
Why do Weeping Angels look the way they do? We demand to know!
Meet the man who brought Doctor Who back to the world!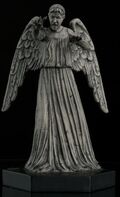 to be added
External links
Edit
Ad blocker interference detected!
Wikia is a free-to-use site that makes money from advertising. We have a modified experience for viewers using ad blockers

Wikia is not accessible if you've made further modifications. Remove the custom ad blocker rule(s) and the page will load as expected.