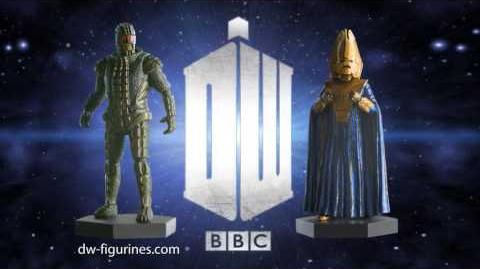 Figurines were included with each issue of Doctor Who: Figurine Collection.
All figurines were produced in 1:21 scale, based on measurements of the original props, and from BBC archives, and cast in a metallic resin. Each figurine is painted by hand, and individually numbered.
Because of exact scale, each figurine is also proportional to other figurines in the collection — the Empty Child can hold his hand out to the Second Doctor, as he might in the DWU, and Scaroth measures up as he would against the Simm Master. Doctor Who: Figurine Collection began in 2013, and continues into 2017.
Regular issues
Edit
Rare Dalek Collection
Edit
Special issues
Edit
External links
Edit
Ad blocker interference detected!
Wikia is a free-to-use site that makes money from advertising. We have a modified experience for viewers using ad blockers

Wikia is not accessible if you've made further modifications. Remove the custom ad blocker rule(s) and the page will load as expected.