The Daily Mirror was a UK newspaper title launched in 1903. The Fourth Doctor owned a copy dated 15 April 1912. It reported on the sinking of RMS Titanic. (TV: The Invasion of Time)
In 1966, the Ninth Doctor checked a copy of the Daily Mirror to see if history had been changed. Articles included Wilson's wage freeze, Moon photos from Surveyor 1, and the England football team winning 5-2 in the World Cup against West Germany, with four of England's five goals being scored by Geoff Hurst, despite the Ninth Doctor recalling Hurst had scored a hat trick. (COMIC: The Love Invasion) On 20 July of that year, Kennedy used an old copy of the Daily Mirror to clear a grimy London warehouse window as he and Bob Hall spied on the Second Doctor and Jamie McCrimmon. (PROSE: The Evil of the Daleks)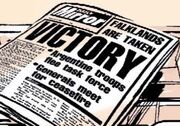 In June 1982, the Daily Mirror published a front page article titled, "Falklands are Taken: Victory." Ada Obiefune had a copy of the paper on her kitchen counter. (COMIC: The Infinite Astronaut)
In 1988, Ace read an issue of the paper. Its main story covered the imminent collision of a meteorite with Earth, but Ace was more interested in the football results. (TV: Silver Nemesis)
The Daily Mirror was one of the newspapers on Paul's delivery route. (PROSE: The Sooner the Better)
Behind the scenes
Edit
In 2013, to commemorate the 50th anniversary of Doctor Who, the Daily Mirror publisher Trinity Mirror published a collected volume of material from its archives as part of an irregular themed series of bookazines (Doctor Who - The Archive).
Ad blocker interference detected!
Wikia is a free-to-use site that makes money from advertising. We have a modified experience for viewers using ad blockers

Wikia is not accessible if you've made further modifications. Remove the custom ad blocker rule(s) and the page will load as expected.