Ad blocker interference detected!
Wikia is a free-to-use site that makes money from advertising. We have a modified experience for viewers using ad blockers

Wikia is not accessible if you've made further modifications. Remove the custom ad blocker rule(s) and the page will load as expected.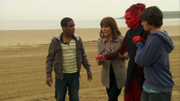 Danemouth was a small village at the coast. The Danemouth Pleasure Park and the Saint Anthony's children's home were located there.
Rani Chandra lived in Danemouth before moving to Ealing in London. Sam Lloyd moved to Danemouth when his mum and dad died in a car accident. Sometime Eve's Ship crashed on the beach. From that time on Eve lived with Harry Sowersby at the Danemouth Pleasure Park. Ship was repeaired in 2009 and Eve, Harry Sowersby and Samuel Lloyd were leaving Danemouth to go to space.(TV : The Mad Woman in the Attic)
In September 2009 Haresh and Gita Chandra stayed several days in Danemouth to visit relatives. (AUDIO: Wraith World)