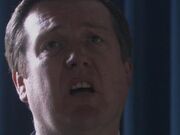 You may be looking for the British Spitfire pilot who went by the callsign "Danny Boy".
"Danny Boy" was a song that Shaun Jones sang at his son Eugene Jones' funeral in 2007. (TV: Random Shoes) One man used the chorus to open his Chip Type 2. (TV: The Long Game)
Ad blocker interference detected!
Wikia is a free-to-use site that makes money from advertising. We have a modified experience for viewers using ad blockers

Wikia is not accessible if you've made further modifications. Remove the custom ad blocker rule(s) and the page will load as expected.